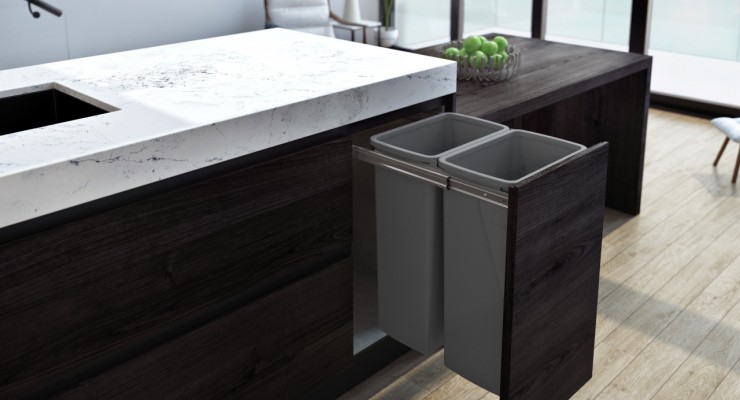 Striking the Balance between Premium Design and Great Value
With the continuing trend for dark coloured cabinetry and hardware, Hideaway Bins are pleased to announce the addition of the Cinder colour to its popular Hideaway Compact bin range.
The new Cinder colour option strikes the right balance between need for premium looking design and the great value offered by the Hideaway Compact bin range.
The Cinder colour was first released with the award winning Concelo® range and was designed to harmonize with the dark grey and Anthracite colours from leading drawer brands. With many kitchen designers and manufacturers offering matching dark grey cabinetry and hardware, the Compact Cinder bin range now makes it possible to achieve a totally harmonized look across the whole kitchen.
The added practical benefit of Cinder is its ability to hide dirty marks and scuffs.
In total, 13 Compact bin models are now available in Cinder, and are the same price as their Arctic White equivalent - all floor mounted Compact bins are available in Cinder, and door pull models in 15L, 20L, 35L and 40L buckets sizes are also available. Check out the full Compact bin range by following the link below. With 35 Compact bin models to choose from, there is a Hideaway Bin to suit any project.