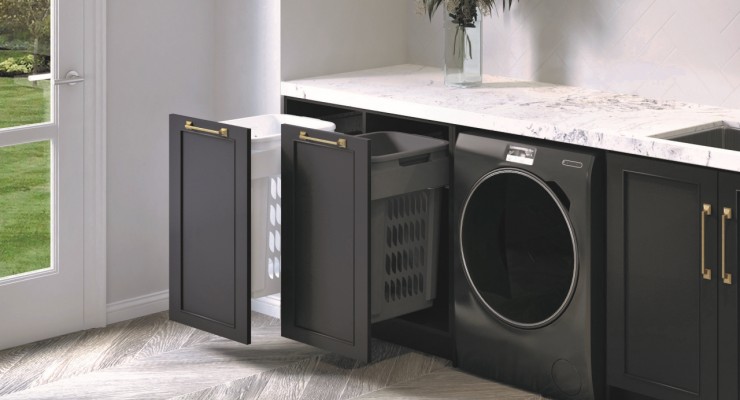 New Concelo Laundry from Hideaway Bins
Hideaway® Bins is excited to announce the arrival of the Concelo® Laundry Hamper, offering a premium laundry solution at an attractive price.
The Concelo Laundry Hamper has been designed to run on the same platform as the Red Dot award-winning Concelo waste bin. This means it is packed with innovative features, which raise the bar in what should be expected from any laundry hamper.
The team at Hideaway Bins pride themselves on designing and manufacturing products that deliver solutions to common complaints raised by the trade and design community and the homeowner. With this in mind, Concelo Laundry has been created to stand out in the crowd — a leader in design rather than a 'me too' product.
Running on the high-quality German-made Häfele Matrix Runner (pictured below), the smooth, synchronised concealed runner has overextension and the fluid damper ensures a seamless and very quiet closing action. The Concelo runner is equal to other premium drawers.
The aluminium framework that conceals the runners and holds the hamper is ridged and resists twisting. Concelo Laundry benefits from the advanced cam door adjustment giving true 6-way adjustment (+/- 2.5mm vertical and horizontal and +/- 0.75 degree tilt/pitch). Adding to this, the locking bolt system on the door brackets ensures there will be no requirement to return to the job for door adjustments on Concelo products.
Unique to the Concelo Laundry Hamper is a one-piece Clip n' Clean tray, providing easy access to the frame and the door for cleaning. This means there will be no issue with rusting of the laundry hamper frame and no dirt trapped between the door and the frame.
For easy and quick installation, Concelo Laundry has been designed to side mount using System 32 drilling patterns. It also works with electronic push to open systems giving the homeowner a true hands-free laundry hamper solution (pictured below).
It includes a 60L hamper and is designed to fit behind a 450mm door front. The Concelo Laundry is available in two colours, Arctic White or the increasingly popular Cinder colour to complement the design trend towards dark cabinetry. Or why not install a white and a cinder side by side to make it easy for the homeowner to sort dark laundry from whites.
Hideaway Bins, leading the way in waste bin and laundry hamper design.