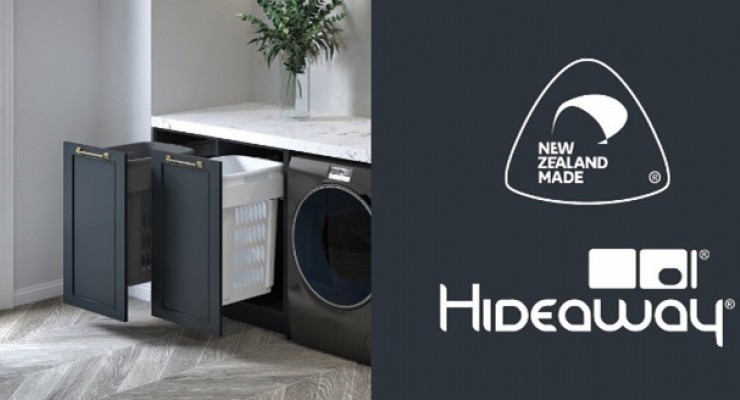 All Hideaway Bins are Proudly NZ Made
The full range of Hideaway Bins are proudly made here in NZ by Kitchen King Limited. A business located in Silverdale, Auckland which is run, and owned by the Bertelsen Family a NZ home grown family. Hideaway Bins have been certified NZ made since August 2007. The status applies to all our bins no matter the bucket size or where it is going, be it a waste bin for the kitchen & bathroom or a laundry hamper for the laundry or wardrobe.
Kitchen King use New Zealand businesses to sub-contractor and manufacture our parts, so when you purchase a Hideaway Bin you can be certain that you are supporting local. Your purchase supports New Zealanders to remain in work across many different industries, be it metal manufacturing, plastic injection molding, powder coating, cardboard cartons the list goes on.
A few years ago, many manufacturers in the kitchen industry decided to take manufacturing offshore for all or parts of their products. The decision to stay manufacturing in NZ is close to the heart of Director Allen Bertelsen, who truly believes in playing his part towards ensuring the economic stability of NZ.
Being locally made means we can produce products on shorter lead times, and are less affected by logistical lead times, as well as logistical issues caused by Covbid-19. This can be critical for large projects where continuity of supply is important.     
To become certified NZ made, a manufacturing business must be in New Zealand. The key materials/components that form the essential character of the finished products must be made here in NZ and if imported parts are used, they must be minor in nature. We are proud to say we design all our products ourselves; we manufacture the parts for our Hideaway Bins here in NZ except for minor parts such as the runners. We leave that to the runner experts, for example we import the German Made Matrix runners used on our Red Dot Award winning Concelo waste bin.
Hideaway Bins are distributed nation wide in NZ through Hideaway's distribution partners; Häfele, Carters, ITM, Impey's, Rose City Wood Panels and Scooters.
Hideaway Bins are distributed nation wide is AUS through Hideaway's distribution partners; Hafele, Nover and Galvin's