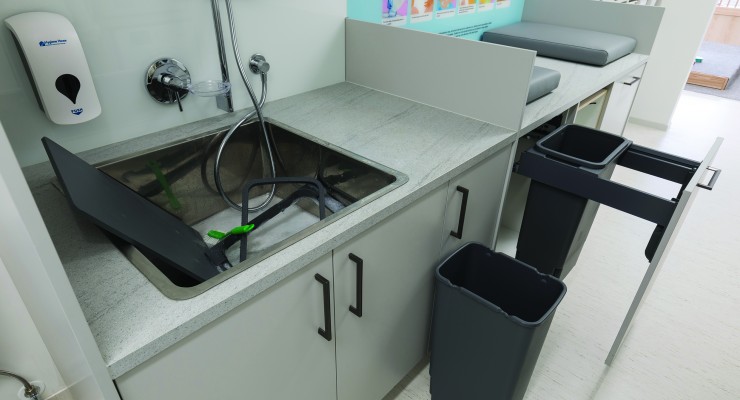 The smart way to deal with nappies and waste in a Childcare Centre.
Certified kitchen designer, Rebecca Rix from Auckland, New Zealand specified Hideaway's Red Dot award winning Concelo® bin to deal with the challenges posed in this unique environment.
Two Concelo waste bins each with 2 x 35L buckets were installed within the nappy changing area, allowing the carer to easily step back and dispose of nappies and waste whilst still being able to provide care to the child and keep them safe.
"I specified Concelo due to hygiene. No other bin in the market does what Concelo can do. I like how all the parts of the bin can easily clip apart and be thoroughly cleaned which is essential in this environment. I also liked how Concelo has the hands-free Active Lid that drops down over the buckets to contain odours.  This was a critical selling point" says Rebecca.
Concelo has Clip' n' Clean features for not only the buckets and liner holders, but the framework the buckets sit within also simply clip out for cleaning. This is unique as, traditionally, the frame is static and is difficult to clean, creating many dirt traps. Waste bins are notoriously dirty and smelly and every aspect of the Concelo waste bin design has ensured that thorough cleaning is possible and simple to do.  In addition, the Active Lid can be removed and cleaned with very little effort and is ergonomic for the user.
The Concelo Laundry Hamper was also installed within the busy workstation so washing could be stored out of sight until a full load of washing had accumulated. Concelo Laundry was chosen once again due to its Clip n Clean features and for its seamless closing action on its concealed synchronised soft closing runners.
Concelo bins are made in New Zealand from high quality materials to ensure the units will withstand the challenges posed in a commercial environment. For strength, the framework is made from 1.0mm zinc treated steel which is then powder-coated for durability. The specially designed for Concelo, high quality German made runner is both synchronised and soft closing to a high standard equal to other premium drawer brands. Hidden behind robust and solid powder coated, aluminium drawer sides the runner holds 45kgs and they overextend to ensure buckets will come clear of a bench overhang of up to 50mm.
Concelo is designed and manufactured in New Zealand by Hideaway Bins and is distributed nationwide throughout New Zealand through Hideaway's distribution partners' Hafele, Carters, Impey's, ITM, Rose City Wood Panels and Scooters.