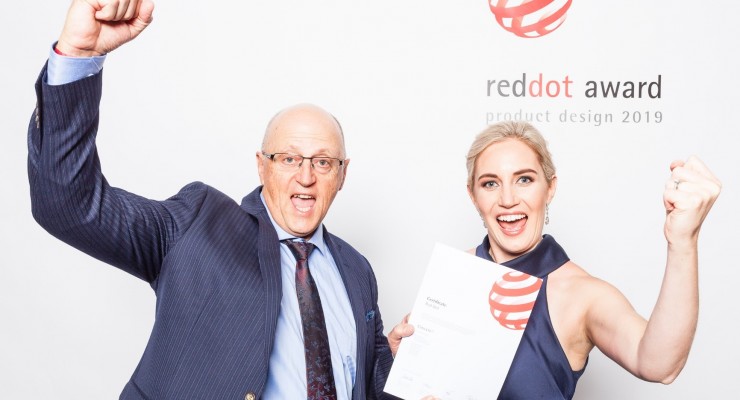 A once in a life time award goes to Hideaway Bins
The prestigious international Red Dot Design Awards pay tribute to the best manufacturers and designers of the year. In 2019 there were 5,500 entries from around the world, and only the best products convinced the experts. The manufacturers and designers from the international design scene that created these products were honoured and celebrated on 8 July 2019, at the Red Dot award ceremony in Essen Germany.
It was a proud moment for Directors Allen and Jamie Bertelsen from Hideaway Bins, an Auckland based company, to be recognised on the world stage for their innovative Concelo waste bin design. This shines the light on the research and development capability of New Zealand as a country but it also shines a beaming light on the kitchen and bathroom industry. It takes a lot of time, effort and courage to design an innovative product that stands out on the world stage, pushes boundaries and isn't a replication of the direction set by multinational design companies.
Allen and Jamie enjoyed celebrating this honour in Germany and found themselves mixing among some of the best design companies in the world such as Ferrari, who won the Design Team of the year as well as Apple, Bosch, Grohe, Hyundai, LG, Philips and Sony to name a few.
The Concelo waste bin is now on display in the Red Dot Museum in Essen, alongside other award-winning products. It is also forever featured in the 2019 Red Dot DOING year book where the international design community draw inspiration for future products and stay on top of the latest product trends paving the way forward.
"The celebration was glamourous, and an experience to not be forgotten and a true honour to have our waste bin recognised for its unique design features that truly help it to stand out in the crowd" says Director Allen Bertelsen.
Hideaway Bins directors, Allen Bertelsen and Jamie Bertelsen, outside the Red Dot award ceremony.
The entrance to the Red Dot awards evening July 8 2019 in Essen Germany.
 Concelo featured in the 2019 Red Dot DOING year book