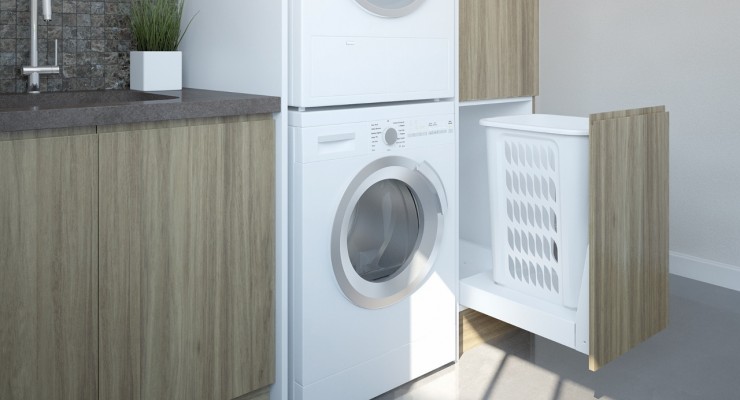 Hideaway Bins launches a Base Mount Laundry Hamper that works with a Laundry Chute!
As the demand for land space escalates the need for houses to be built upwards instead of outwards increases. There is now a demand for Laundry Chutes to be built into our homes to deal with laundry from the upper levels.
The new to market Base Mount Laundry Hamper by Hideaway Bins is an ideal solution installed under a laundry chute to catch dirty laundry and keep it hidden away.
Typical to the quality of Hideaway Bins no stone has been left unturned in the design of this ergonomic and functional new product. The strong and sturdy, yet stylish base mount tray holds the hamper in place and conceals the German Soft Close runners when the unit is open. The 60 litre hamper is also locked into location by the use of a handle support attached to the door fascia to ensure the hamper does not tip when pulled open should there be a back log of washing above. Any clothing that should fall into the base of cabinet is protected as all runners and moving parts are covered and extra attention has been given to ensure all metal edges are smooth protecting clothing from any possible damage.
The light weight 60 litre hamper is very ergonomic as it lifts easy at waist height from the base mount tray and does not require the user to bend or lift the hamper high to remove it from a frame. The hamper is made from a high grade polypropylene plastic which has smooth insides for clothing protection, air venting for moisture reduction, a solid base to protect the internal cabinet from drips and moulded handles to assist the user in moving the hamper.
The hamper can be installed into any area of the home to suit your laundry chute requirements. For example it can be installed into a laundry, hallway cupboard or even in the bathroom.
The New Base Mount Laundry Hamper is available throughout Australia and New Zealand through our distribution partners.
Purchase the SCLBM160D-W Laundry Hamper.